Krzysztof Goliński (born 1981 in Vienna) is a multimedia artist living in Warsaw.
He creates algorithmic paintings, generative objects and interactive installations. He explores ways of applying algorithms to creative process and using new media in public space.
Golinski's art ranges from aleatoric graffiti to object generation based on analysis of living organisms behavior.
He actively works in art education, He taught Virtual Scenography course at Academy of Fine Arts in Warsaw and various workshops on electronics and programming as creative tools.
He is also a co-founder of panGenerator - new media art collective.
+48 501 620 662
krzysztof(at)golinski(dot)org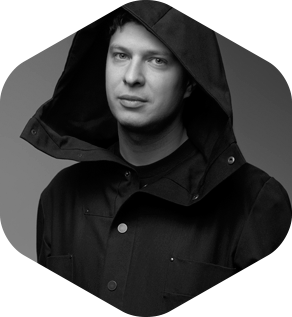 Exhibitions
Feb 13th - 16th, 2014
Constellaction @ Pause Fest
Oct 22nd - Nov 11th, 2013
Explosive Digital Data Storage @ Galeria Kordegarda
Sep 18th - 19th, 2013
Elektrisk Oransje & peacock @ Moozak Festival
Sep 5th - 8th, 2013
Constellaction @ Przemiany Festival
Jun 22nd - Jul 28th, 2013
Semi-conductor @ PZU Strefa Ciszy Music Festival
May 9th - Jun 16th, 2013
peacock @ 15th WRO Media Art Biennale
Apr 17th - 20th, 2013
.float @ Print Screen Festival
Nov 17th, 2012
Light Tesselations @ Minska 14
Sep 22nd - 23rd, 2012
Aleatoric murals @ Żoligaraż
May 19th, 2012
WEF Laptop Orchestra @ Zachęta Narodowa Galeria Sztuki
May 10th - 31st, 2012
beats bits atoms @ Galeria Kordegarda
Feb 2nd - 28th, 2012
K!-Labo @ Galeria Kordegarda
Oct 27th - 29th, 2011
Bugs @ National Audiovisual Institute
Sep 8th - 11th, 2011
Non-video game @ European Culture Congress
Jun 3rd - 4th, 2011
Burning Pipes @ Selector Festival
Mar 29th, 2011
I/O (input-output) - New Media - Lecture and Workshops @ Centre for Contemporary Art Ujazdowski Castle
Mar 1st - 11th, 2011
Diploma exhibition @ Galeria 2.0 (now defunct)
Nov 18th - 19th, 2010
Installation MOTION = COLOR @ National Audiovisual Institute
Oct 28th, 2010
The One Who Falls Down (Interactive Environment) @ Laznia Nowa Theatre
May 15th - 16th 2010
Artsteroids - Night of Museums @ Academy of Fine Arts Warsaw
Apr 28th - May 5th, 2010
12(Twelve) - Group Exhibition @ Skwer
Apr 15th - 24th, 2010
Warsaw Art Photography Festival @ Galeria Spokojna 15
Oct 29th, 2009
Orange Cultural Education Event - Visual Performance @ Skwer
May 31st - Jun 1st, 2009
Balloons on Monuments – Happening
Sep 6th - 20th, 2008
Generative - Canvas Exhibition @ 2/3